There are two kinds of people that walk into a boot store – those who know exactly what they're looking for, and those who don't. 
Maybe you're in the market for a new pair of boots to add to an already extensive collection. Or, maybe you're looking to purchase your first pair. No matter how much experience you have with cowboy boots, we're here to help you choose the perfect pair to suit your needs. 
First things first… 
How a pair of boots fit matters.
There's several things to consider in finding the right fit, but most people will tell you one thing off the bat – "it should fit like a firm handshake."  This is in reference to the snugness across your instep. The ball of your foot should sit exactly in the widest part of the sole. That is how you ensure your toes are positioned correctly – not too far back, not too far forward.
Beyond that, your heel should feel lifted in the back of the boot when walking. Up to half an inch of slippage is okay and to be expected; that'll go away as the boots mold to your feet. 
Make sure when you pull the boots on for the first time, you give them a little tug. If you don't feel and hear a "pop" noise when putting them on, there's a good chance they may be too big. Every brand of cowboy boots will fit differently, but as a rule of thumb, most people will drop down a half of a size in our brand.
Function vs. Fashion 
What purpose will your new boots serve? Determining whether you're going for function, fashion, or a combination of both will go a long way in narrowing down your options. The great news for you is that no matter what purpose your boots will serve, we make them all with the same quality and construction.
Alongside purpose, several factors come into play when you're thinking about style, including leather type, sole type, and toe style. 
Leather type
Once you know what purpose your boots will serve, choosing a practical leather will be easier. Cowhide is the most popular material used for boots due to its durability, flexibility, and cost effectiveness. Ostrich is a popular exotic leather known for its softness, breathability, and durability. Many believe ostrich is the best "bang for your buck." Goat achieves a balance between luxury and better value, while Python's rising popularity in the exotic category makes it a great choice for people seeking a unique leather pattern. With options like lizard, Nile crocodile, American alligator, buffalo, bison, and calf, there's something for everyone. Be advised – some types of leathers tend to stretch and mold to your feet more over time. Ostrich, goat, cowhides, and suedes tend to conform better to the foot. Reptile skins do not share the same elasticity traits, so be sure to take that into consideration when deciding which leather type is right for you.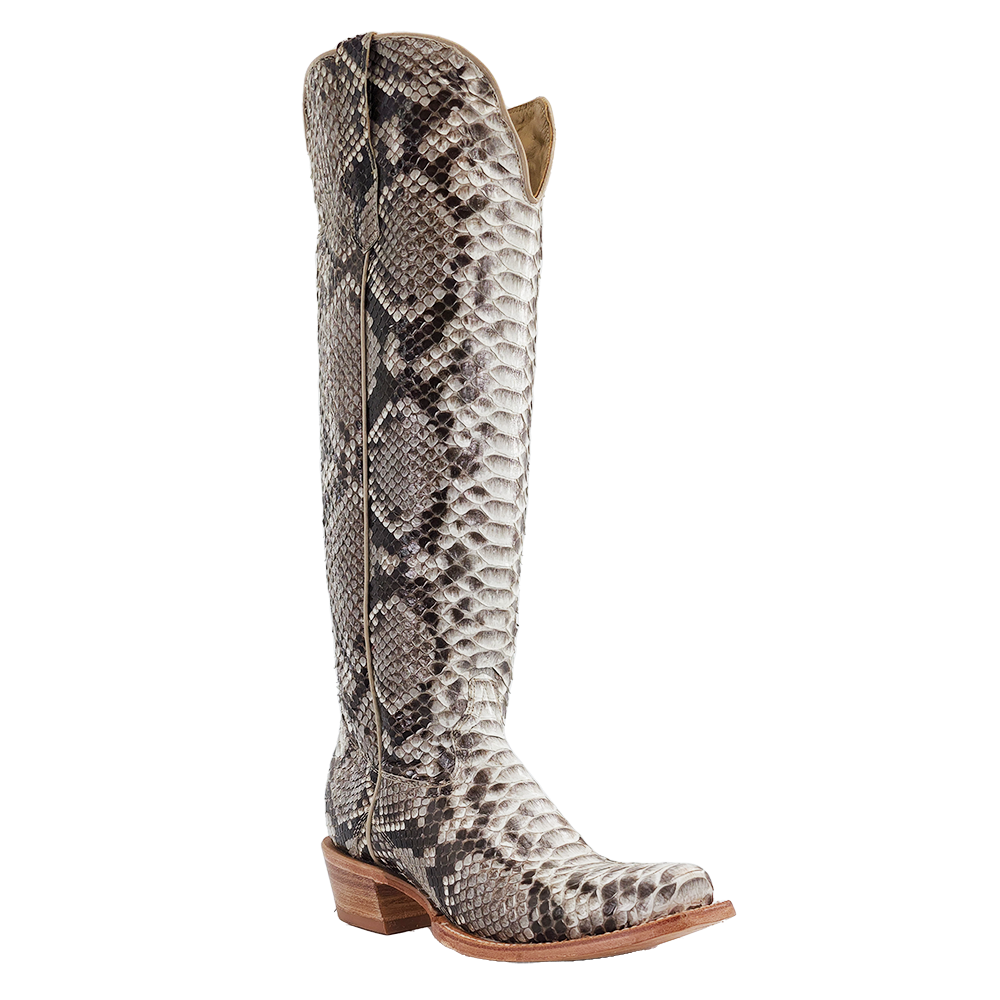 Sole type
Rubber soles are popular with people who value durability. These soles work in an environment with more harsh conditions. Rubber can withstand wet, cold, and uneven surfaces better than leather. It often leaves the customer with an experience reminiscent of a tennis shoe. Those who prefer the traditional leather sole like it because it molds to your foot. It is trusted more in the stirrups of a saddle than a larger and more bulky rubber outsole. Even though a leather sole may seem slippery at first, it'll develop traction as it breaks in over time. A new Hybrid leather/rubber combination sole blends the best of both worlds.  
Toe style
There are three umbrella categories of toe styles: rounded, pointy, and square.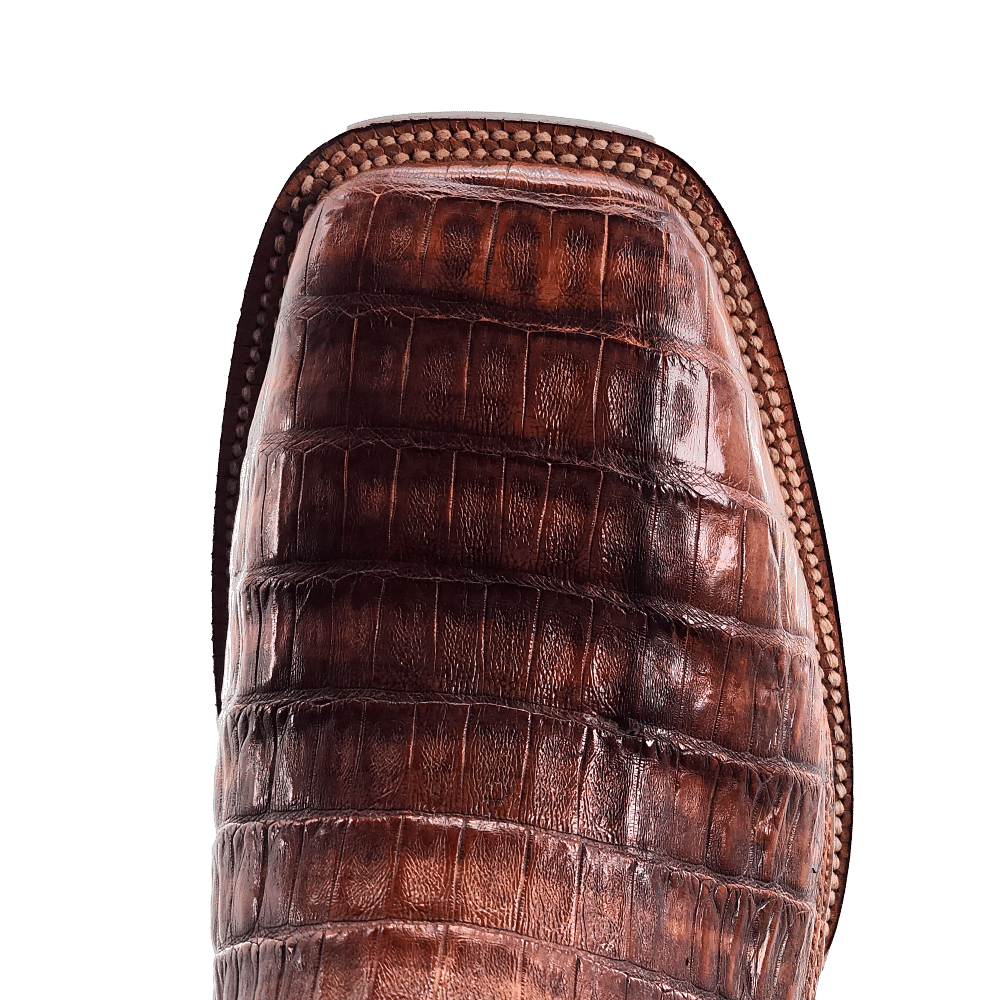 Square toes are typically favored by rodeo cowboys and everyday boot wearers. This style has gained popularity over the last fifteen or so years, with iterations ranging from broad square toes to subtle box toes. The majority of R. Watson's boot selection includes square toes.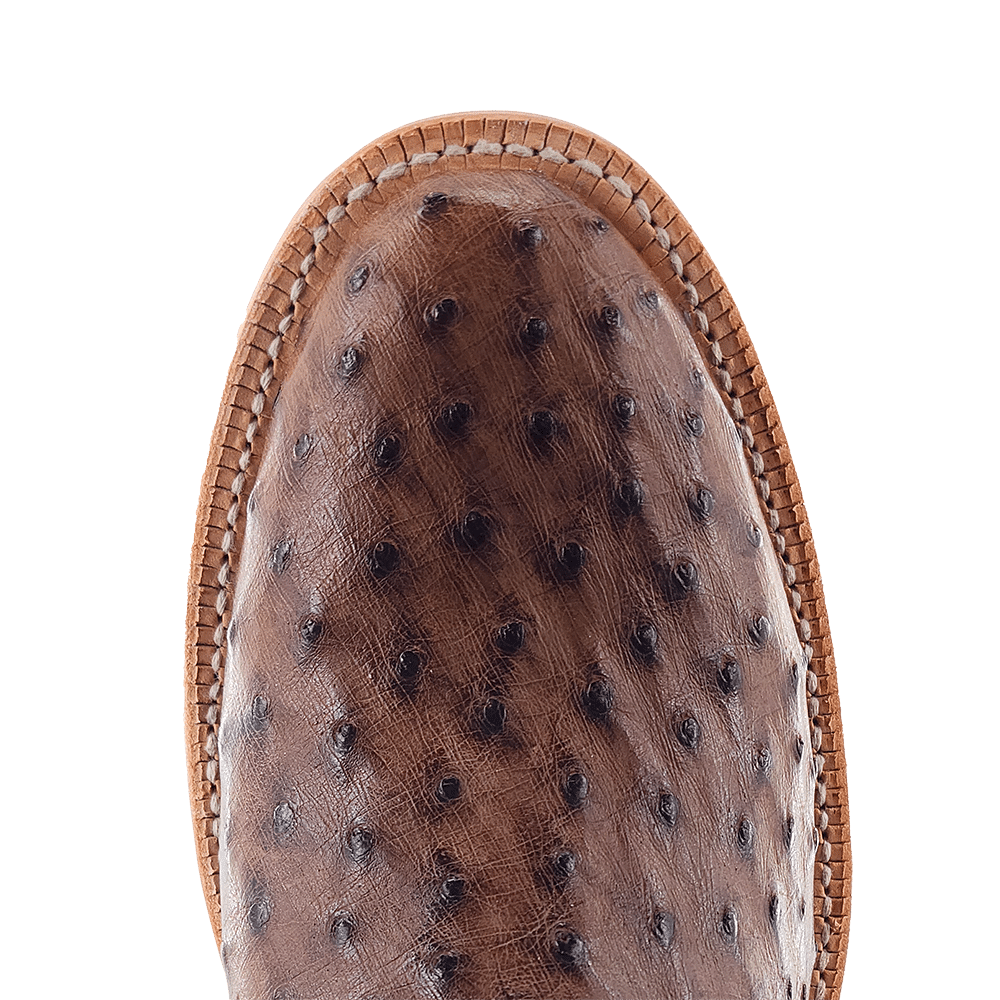 Rounder toes are typically favored by ranchers, business types, and more casual boot wearers. If this is your first pair of boots, the traditional Western rounded toe is likely your best bet.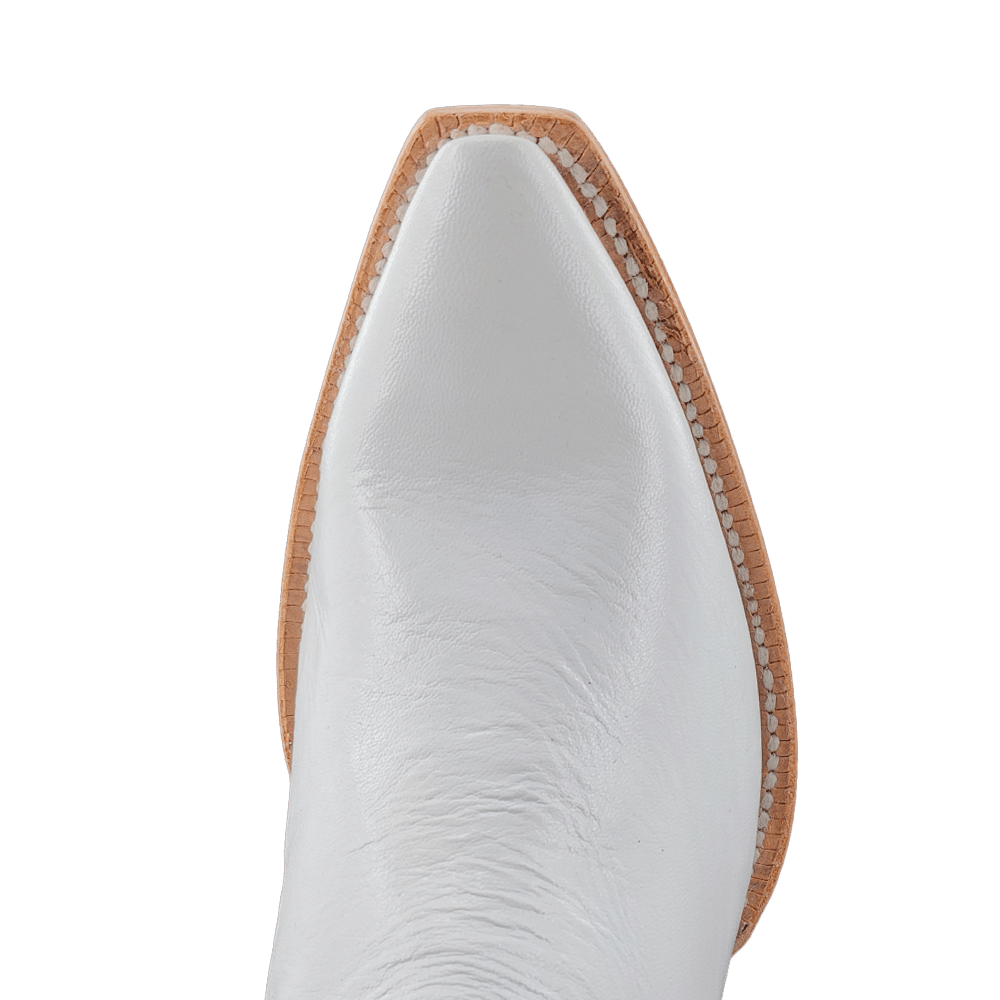 Pointy toes are typically favored by rockstars and fashionistas. If you're wanting to make a statement, this toe style is for you.
At the end of the day, the best way to determine whether a pair of boots is right for you is to try them on in store. Find your next pair of R.Watson boots at one of our retail partner locations.